Welcome to the best place for little beginners to start their journey into music!
This brand new ukulele course from Beanstalk Arts is the perfect creative activity to do at home this summer...
But...before you go any further HOLD YOUR HORSES..this course is usually £40, but over the summer holiday of 2022 (offer valid right up until September 7th) if you purchase any ukulele from our online shop, you'll receive FREE LIFETIME ACCESS to this course. Ukes start at £30, so this is a real bargain - go over to www.beanstalkarts.co.uk/shop. Once you've bought your ukulele you'll receive a voucher for accessing these lessons.
Tried and tested by many little people and their grown ups, Ukulele for Little Beginners was hugely popular during the first UK 2020 lockdown, and is based on a real life course run successfully for several years in our local area of South East London.
There's no chance of the kids wandering off bored with these, fun, engaging videos - each video teaches a simple step towards mastering the ukulele, and your children will be able to see the progress they are making and will be looking forward to the next lesson.
Geared towards children aged c.5-9 (although younger siblings and grown ups have often reported learning too!), the playalong videos are short and fun, and your child can play along with us to learn together. By the end of this course your child will know four chords, be playing songs and starting to improvise.
You can access this course for £40 (including VAT) or spread the cost over 3 months. If you'd like to buy a bundle deal including a ukulele, access to the course, and end of term badge and certificate, you can purchase this from our online shop here.

Lots of the songs included are specially written to help master key ukulele techniques, with this age group in mind! Songs you will learn through the course include We Are the Strummers, Cool Cat, and I'm Just a Fly, plus we use the wonderful rhyme The Bogeyman and the classic Row Your Boat, to name but a few!
For an affordable one-off payment you will receive lifetime access to the course - so there's no rush and you can take the course absolutely at your own pace!
With no need for any experience in reading music or playing an instrument this is such a fun and lively Summer project for you to take part in with your kids.
"Becky. Just wanted to let you know how much E (8) is LOVING the online Ukulele classes. She's totally hooked! Thank you so much. J"
"My daughter has loved term 1 of ukulele lessons. Becky is amazing - such a great teacher and her enthusiasm is infectious. It's been a very different way of learning an instrument having to do it online during the pandemic but it's worked really well because of the brilliant way that Becky has put the course together. We look forward to term 2!"
Meet Becky, your new Ukulele Teacher!
Hi, I'm Becky, an experienced musician, storyteller and teacher. 
I'm the founder of Beanstalk Arts, where we deliver high quality, creative and inclusive music, story and ukulele workshops for children and their grown ups, with a focus on live instrumental music. 
As a professional storyteller I have worked at the Royal Albert Hall, the Horniman Museum and the Southbank Centre.
As an artist I'm the frontwoman and main songwriter in 'Becky, Boris and the Beats' who have performed sold out gigs in SE London and have released an album of original songs for kids.
It's really important to us that our music is live, engaging and high quality - how better to inspire and captivate the senses of our little listeners?
That's why we have brought our popular course online, to bring this fantastic starter instrument to many more children. I love to encourage them to have a go, to keep practicing to see their improvement, and the growing confidence and self esteem that comes from sticking at something. 
And most importantly, to have fun!
If you're thinking about signing up but have a question please do get in touch, I'd love to hear from you.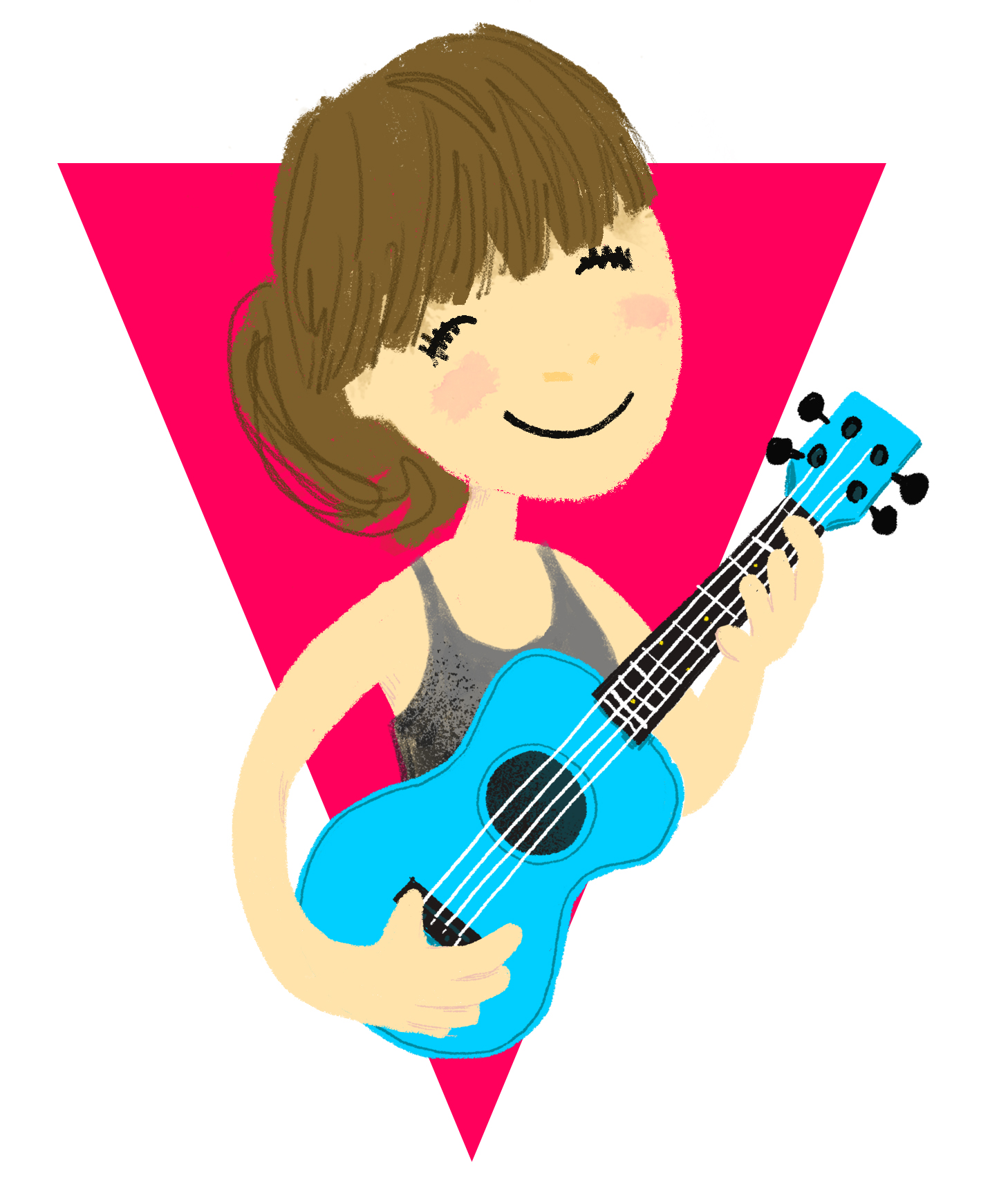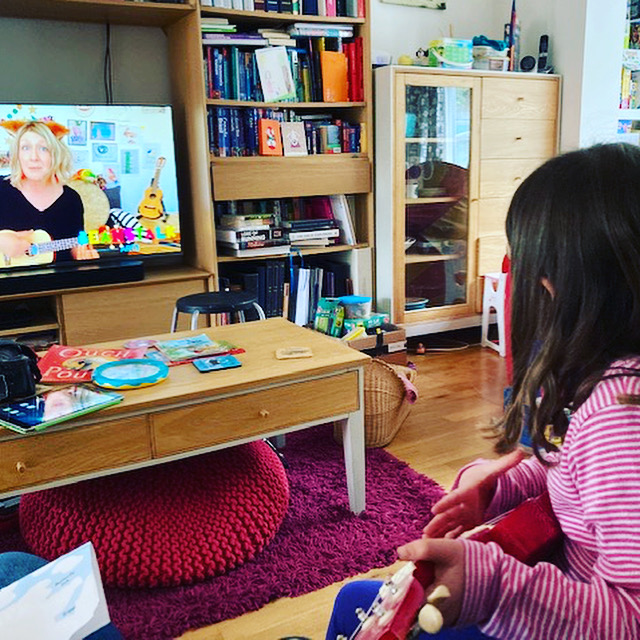 For Children age 5-9 and their families
One-Off payment
Lifetime access
Set your own pace or follow the course over the suggested 10 weeks
Run by experienced teacher
No previous instrument or musical experience needed
Original captivating songs
Follow on courses to build on their learning are available
"Hi Becky I am just writing to thank you for the wonderful Beanstalk Arts online ukulele course. You have taken the time to create such wonderful videos and you are so very creative and musical in their content. It really has been an absolute joy to be a part of it. And what an absolute bargain price as well. I feel thoroughly spoilt!"
FAQ's
What do I need to start the course?
To start your ukulele journey, you don't need to spend a lot of money on a fancy instrument to learn the basics, particularly as a young starter's instrument tends to get a fair bit of bashing about! A soprano ukulele will do the job nicely (although if you'd like a larger instrument for a grown up who will be joining in, a concert or a tenor will have the same tuning but slightly bigger size and sound). I love the Makala dolphin and also the kala ukadelic - you can buy a ukulele from Beanstalk Arts here.
New ukuleles tend to lose their tuning very quickly at first, and take a while to settle so you may wish to invest in an electronic tuner like this.  But there are also apps you can use on your phone!
You'll also need some colourful dot stickers to mark the chord shapes.
Will my child need my help to complete the course?
Yes and No! I have found that younger learners really benefit from following this course alongside a grown up, but older students should be able to follow this course independently. 
Is this course suitable for my 4 year old?
This course is based on my face to face classes run for children in reception and above, and so some 4 year olds have completed the course! This depends a lot on individual children, but getting the chord shapes does require fairly developed finger dexterity, so you may find younger children struggle from week 7 onwards when we start using 2 fingers to form chords.
You can watch a preview of the videos here to check whether the pace and tone would work for your child.
How often should my child be practising?
The teaching videos are designed as 'play along' videos so your child will build their technique as they go through them – they may find they benefit from playing each one a few times, and some of the longer songs are taught over 2 videos with one explaining more, and then other being a playalong. Through my years of teaching, I've found that children enjoy an instrument more when they feel they are making progress, and this is easier if they play regularly, even if just for a few minutes a day! So just having the ukulele around to play, explore and improvise with will really help develop musical skills, but as a parent myself I'm realistic in understanding the pressures and complications in juggling this! 
Can siblings join in? Is there an additional cost?
The price per course is for your whole family, so siblings are very welcome to join in (as are grown ups!) 
Does my child need prior musical experience?
No, this course doesn't assume any prior musical training. The ukulele is a great 'starter' instrument and we'll introduce musical terms that might be useful for learning other instruments in the future. 
Is the course suitable for older children?
I've heard anecdotally that some older siblings have been taking part too! I'd suggest you take a look at the video previews to see if the tone and pace would be suitable for your child, and an older child might find they go through the course at a faster rate. 
Does my child need to be able to read music?
No, it's not necessary to be able to read - or learn to read - music to enjoy this course.
What if my child is left handed?
There is some debate about this among ukulele teachers! My own daughter (now 7) is strongly left handed but has learnt to play ukulele right handedly without any trouble, and this has helped her progression into learning violin, which tends not to be taught differently for right and left handed students. Both hands are used skilfully but in different ways on the ukulele, so having the dominant hand playing chord shapes can be useful for a left handed player! However, I've found when teaching some students that they really find it much more comfortable to play left handedly, and would then encourage them to play the way they feel most comfortable. I'd suggest starting trying the right handed position, but if this is clearly not right (you can usually tell!) switching the other way round, and tuning the strings the other way round (unlike the violin or guitar there is only a tone difference between the outer strings, so whilst you can buy a specialist left handed instrument, for a beginner I'd suggest re-tuning a standard soprano ukulele).
Anything else you would like to know? Please do get in touch and ask away